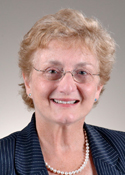 Riverside Methodist Hospital, Center for Medical Education and Innovation, Columbus, Ohio
"Simulation Used to Measure the ACGME Core Competencies and Patient Centered Care"
Principal Investigators: Pamela J. Boyers, PhD
In 2002, the Accreditation Council for Graduate Medical Education (ACGME) introduced competency-based education into the institutional and program requirements for all U.S. allopathic residency programs. The six core competencies—medical knowledge, communication, professionalism, practice-based learning and improvement, systems-based care and patient care—comprise a set of standard principles by which residents can be evaluated and a general framework for curriculum development.
At present, there are no uniform guidelines to measure the successful integration of these core competencies into residency education or resident progress toward proficiency. By "simulating" doctor-patient scenarios involving such common complaints as retinal detachment, colon cancer and low back pain. Prior to and after each
simulation, residents were asked to assess their own level of expertise, as was a physician who had observed the simulation.
An examination of these scores indicated that "it is possible to objectively measure the principles of patient-centered care embodied in the ACGME Core Competencies," Dr. Boyers concluded. The multifaceted evaluation process, which includes residents' self perceptions, recorded observations by attending-level physicians, 360-degree evaluations by standardized patients and an objective examination, has the specific advantage of measuring and recording the data generated by multiple separate observations of a given skill set. Dr. Boyers concludes that "we must continue to work to better define and measure skill sets within each competency, and to demonstrate that mastery of each competency translates into excellence in patient-centered medical care."